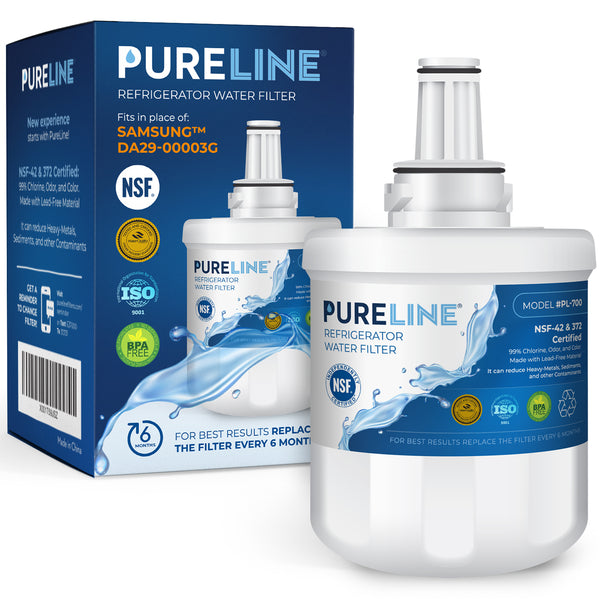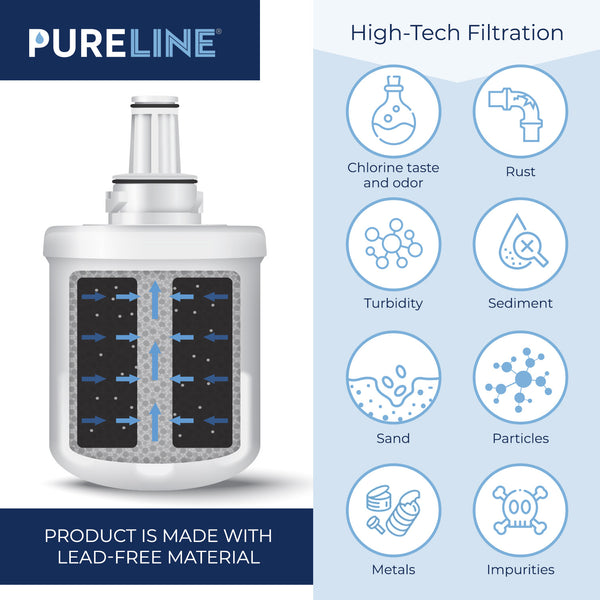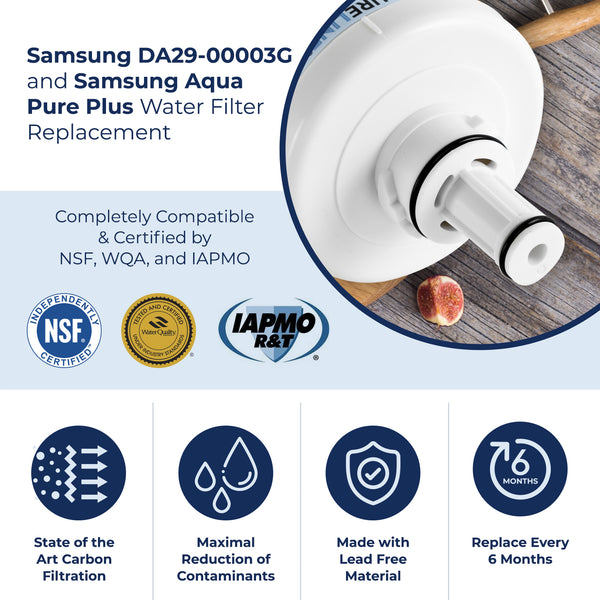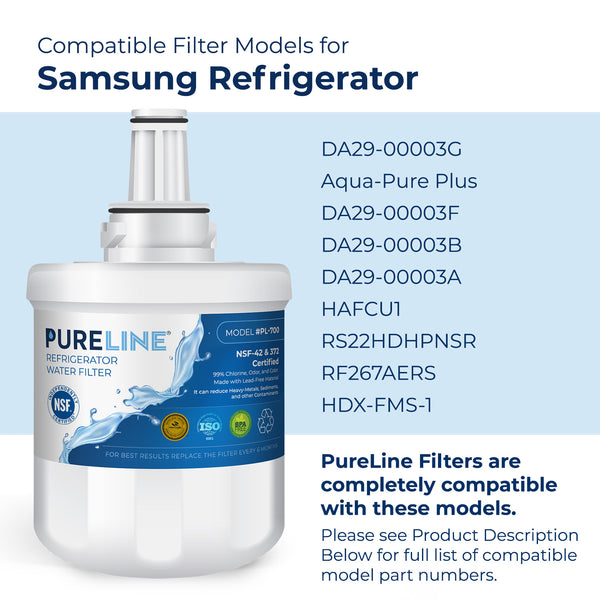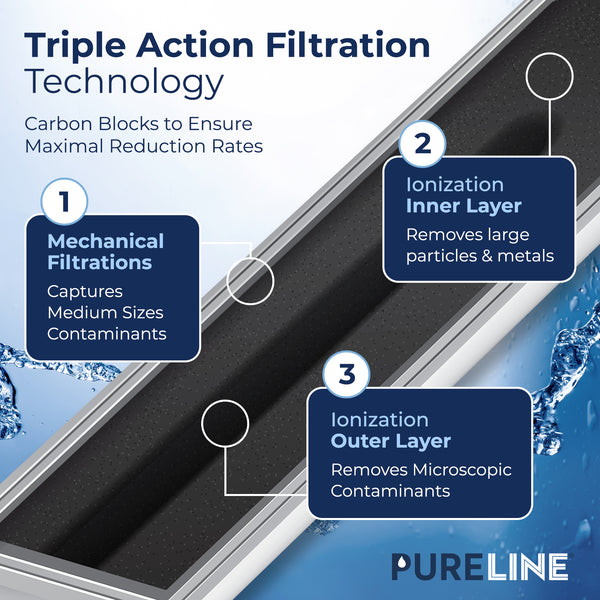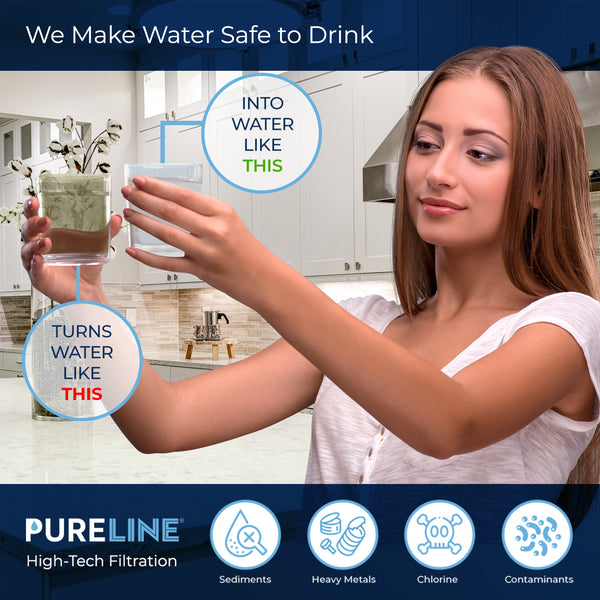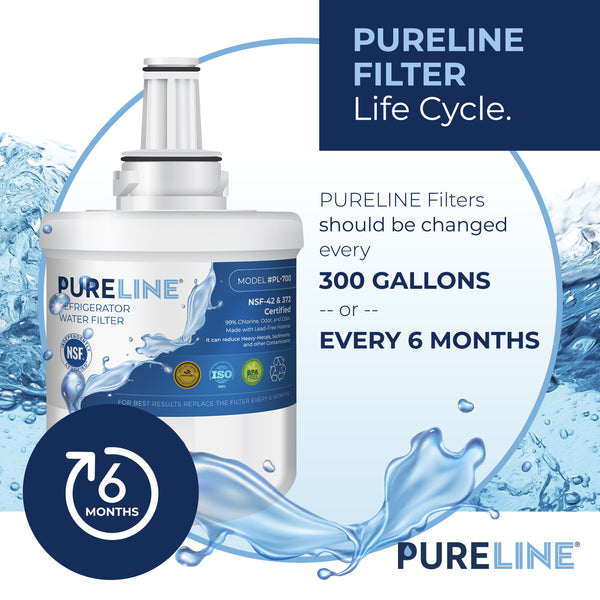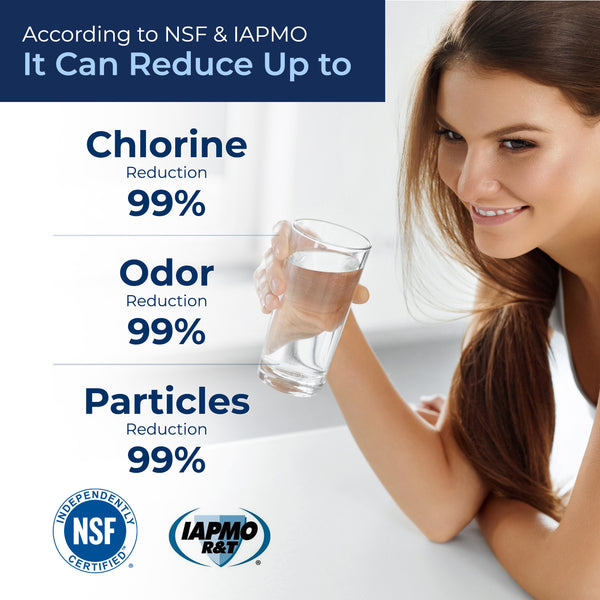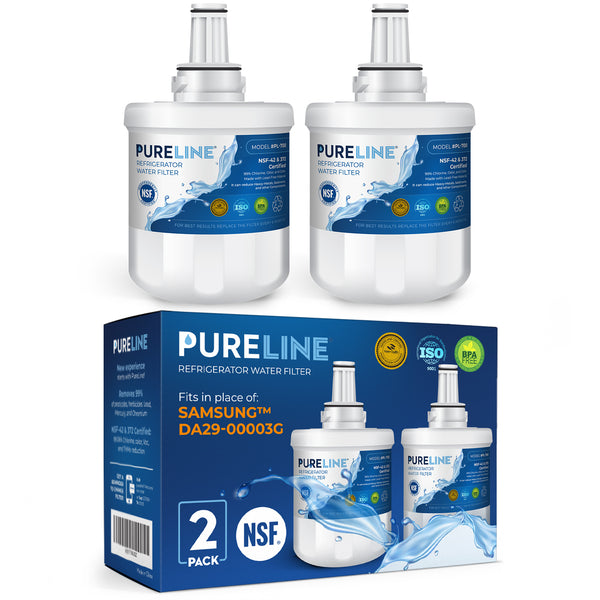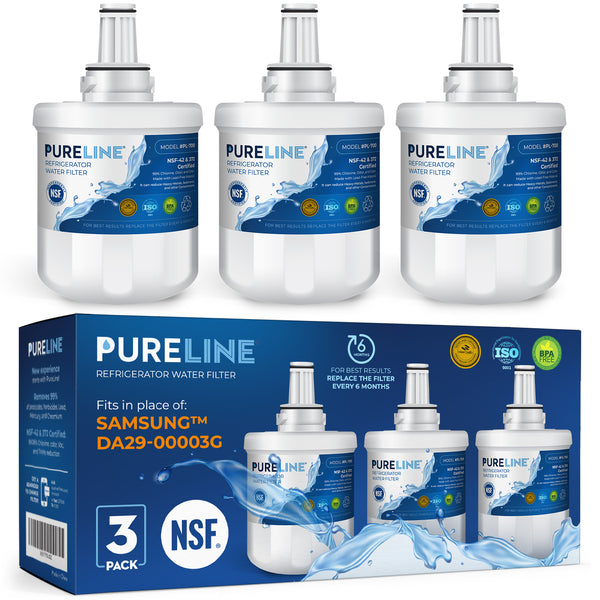 Pureline Samsung DA29-00003G and PUR W10132126 Refrigerator Water Filter.
Guaranteed safe & Secure Checkout


Free Shipping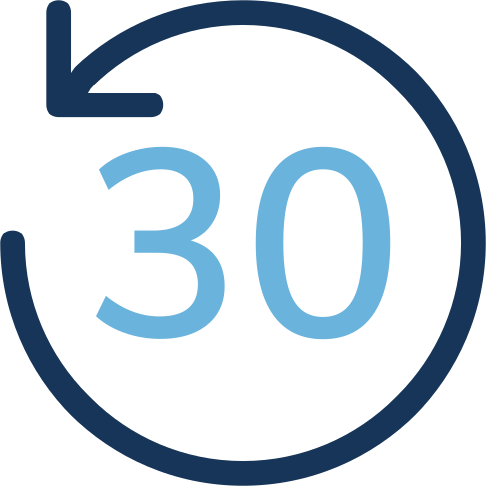 Free 30 days return
PURELINE manufactures high-end generic refrigerator water filters with supreme filtration that can reduces chlorine, particles, heavy metals, and large sediments. Enjoy the fresh taste of your water and ice with the PURELINE DA29-00003G replacement water filter.
Compatible Models
Compatible Filter Models with Samsung
Aua Pure Plus, DA2900003G, DA29-00003 , DA29-00003A , DA29-00003A-B , DA29-00003B, DA29-0003B ,DA2900003A , DA2900003B , DA61-00159 , DA61-00159A , DA61-00159A-B ,DA61-159 , TADA29-00003A , TADA29-00003B,HAFCU1 , HAFCU1/XAA , HAFIN2/EXP ,HAFIN1, AP4444333
Compatible Filter Models with PUR
W10132126
Compatible Filter Models with Swift Green
SGF-DSB30
Compatible Refrigerator Models
RB215BSBB, RB215BSSB, RF265ACBP, RF266ADPN, RF266ADRS, RF266AZRS, RF266AZWP, RF267ACBP, RF267ACRS, RF267ACWP, RF267AZPN, RF267AZRS, RF267AZWP, RF268ACPN, RF26VACBP, RF26VACPN, RF26VADWP, RF26XAZBP, RF26XAZWP, RFG238AZRS, RFG295ABBP, RFG295ABPN, RFG295ABRS, RFG295ABWP, RFG297ABBP, RFG297ABRS, RFG297ABWP, RH2777AT, RS2556SW, RS2621SH, RS2624WW, RS2644SW, RS265LAWP, TS48WLUS, RB195BSSB, RF263AEBP, RF263AEPN, RF263AERS, RF263AEWP, RF263AFBP, RF263AFRS, RF263AFWP, RF265AABP, RF265AARS, RF265AASH, RF265AAWP, RF265ABBP, RF265ABPN, RF265ABRS, RF265ABWP, RF266AABP, RF266AARS, RF266AASH, RF266AAWP, RF266ABBP, RF266ABPN, RF266ABRS, RF266ABWP, RF266AEBP, RF266AEPN, RF266AERS, RF266AEWP, RF266AFRS, RF267AABP, RF267AARS, RF267AASH, RF267AAWP, RF267ABBP, RF267ABPN, RF267ABRS, RF267ABWP, RF267AEBP, RF267AEPN, RF267AERS, RF267AEWP, RF267AFBP, RF267AFRS, RF267AFWP, RF267HERS, RF268ABBP, RF268ABPN, RF268ABRS, RF268ABWP, RF26DEPN, RF26VABBP, RF26VABPN, RF26VABWP, RF26XAEBP, RF26XAEPN, RF26XAERS, RF26XAEWP, RFG237AABP, RFG237AAPN, RFG237AARS, RFG237AAWP, RFG237ACRS, RFG238AABP, RFG238AAPN, RFG238AARS, RFG238AAWP, RFG295AABP, RFG295AAPN, RFG295AARS, RFG295AAWP, RFG297AABP, RFG297AAPN, RFG297AARS, RFG297AAWP, RFG297ACBP, RFG297ACRS, RFG297ACWP, RFG298AABP, RFG298AAPN, RFG298AARS, RFG298AAWP, RFG299AARS, RH269LBSH, RM257ABBP, RM257ABRS, RM257ACPN, RM257ACRS, RS21HKLBG, RS21HKLMR, RS22HDHPNBC, RS22HDHPNSR, RS22HDHPNWW, RS2520SW, RS2530BBP, RS2530BSH, RS2530BWP, RS2531SW, RS2533SW, RS2533VQ, RS2534BB, RS2534VQ, RS2534WW, RS253BABB, RS253BASB, RS253BAVQ, RS253BAWW, RS2542SH, RS2544SL, RS2545SH, RS2555BB, RS2555SL, RS2555SW, RS2556BB, RS2556SH, RS2556WW, RS255BABB, RS255BASB, RS2577BB, RS2577SL, RS2577SW, RS2578BB, RS2578SH, RS2578WW, RS257BARB, RS2622SW, RS2623SL, RS2623VQ, RS2623WW, RS2630ASH, RS2630AWW, RS2630SH, RS2630WW, RS263BBSH, RS263BBWP, RS2644SL, RS264ABBP, RS264ABRS, RS264ABSH, RS264ABWP, RS265BBWP, RS265LABP, RS265LBBP, RS265LBWP, RS2666SW, RS267BBBB, RS267BBRS, RS267BBSH, RS267BBWP, RS267LABB, RS267LABP, RS267LARS, RS267LASH, RS267LAWP, RS267LAWW, RS267LBBP, RS267LBRS, RS267LBSH, RS269LARS, RS26XUSW, RS275ACBP, RS275ACPN, RS275ACRS, RS275ACWP, RS2777SL, RS277ACBP, RS277ACPN, RS277ACRS, RS277ACWP, RS27FDBTNSR, RS27KGRS, RSC6FWRS, RSC6FWSH, RSC6JWSH, RSC6JWWP, RSC6KWRS, RSG257AABP, RSG257AAPN, RSG257AARS, RSG257AAWP, RSG5FURS, SRT768VFHW.
PL-700-S
Regular Carbon Block vs. Advanced Carbon Blocks
Most generic filters on the market use regular carbon blocks. These filters utilize only one method of filtering contaminants known as mechanical filtration. Depending on the pore size of the holes in the carbon block will dictate whether the carbon block can removes smaller contaminants such as particles, pesticides, and ect...PURELINE and the OEM use advanced carbon blocks. An advanced carbon block utilizes three methods of filtration, mechanical filtration, electro-kinetic adsorption, and physical adsorption. Mechanical filtration is the water passing through the pores of the carbon block, contaminants getting trapped, and not being allowed to travel with the water as it passes through the rest of the carbon block. Advance carbon blocks are made with active coconut to allow the carbon block to develop a positive ion charge to pull the pollutants out of the water via their negative ions. Physical adsorption pulls remaining pollutants.